Rutland Herald – VISION leader and police officer set to retire
The following article was written by Patrick McArdle and originally posted by The Rutland Herald on February 12th, 2021.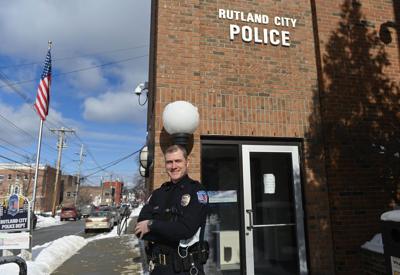 Rutland City Police Department Cmdr. Matt Prouty poses for a picture Thursday morning outside the Wales Street police station. Prouty announced today during a Project VISION meeting that he is resigning from the department and will go on a military deployment overseas.
Photo by Jon Olender
Members of Project VISION said farewell to their second leader on Thursday as Cmdr. Matthew Prouty announced plans to retire from the Rutland City Police Department at the beginning of April.
Prouty told VISION members their organization "isn't normal."
"Just travel around and talk to folks in other communities. It doesn't always happen, and it's been very special here. We've all benefited. I certainly have, and I recognize that. So I want to thank all of you. It makes the work so much easier when you can pick up the phone or you answer the phone. You know the person on the other end of the line and you can talk candidly about what you can and can't do or how we can help and how we can maybe use some money to leverage something to just improve our outcomes," he said.
Prouty said he appreciated the volunteers who pitched in and the fact that so many community and state agencies gave their staff time to attend VISION meetings.
Project VISION was started by James Baker during his time as acting chief of the RCPD. It began as a response to the heroin epidemic in the Rutland area, but members updated their goals and coverage area over the last year to include areas like community building and neighborhood engagement and expand operations beyond the city of Rutland.
Sherri Prouty, Prouty's wife, started the tribute to her husband by thanking Project VISION for giving them the opportunity.
"Because of COVID, we cannot celebrate Matt or have a party or gathering that he deserves," she said.
Sherri Prouty said she met the former Army MP in Germany almost 30 years ago.
"Our first conversation was, he did not want a relationship, and he planned to get out of the army at some point and go back to his hometown and be a police officer. Well, one of those things came true," she said.
When COVID restrictions are lifted, Sherri Prouty promised, she will plan the "biggest party Rutland can handle."
"Everybody watch for your invitation. Dust off those dance shoes, and we're going to party until the cops have to shut it down," she said.
Matthew Prouty, 48, is a Rutland native who still serves in the U.S. Army. He served in Germany but returned in January 1996 and joined the Rutland City Sheriff's Department before joining RCPD in January 1999.
Starting as a patrol officer, Prouty became a police dog handler in 2001, a position he held for about 13 years. In 2009, he was promoted to corporal and then sergeant the next year before becoming a commander in 2016. He has been leader of Project VISION since September 2018.
While Prouty said he will meet the retirement age on April 1, his last day at the RCPD, the date also lines up with a scheduled redeployment which is expected to last about a year.
"There's no point in me trying to hang on for like another year to come back. I would rather let that spot be filled by someone else and not hold it up. It's better for the agency, and quite frankly, being away that long, it's just best for me to end this chapter of my life and figure out, with my wife and I, what our next adventure is going to be," he said.
Prouty said "it's too early to tell" whether he will stay in Rutland when he returns.
Many members of Project VISION, a community partnership with the police department, took the opportunity on Thursday to show appreciation for Prouty, who took over as leader of the organization from Cmdr. Scott Tucker, who is Wilmington's town manager.
Tucker was part of Thursday's meeting, which took place remotely, along with Joe Kraus, who had been Project VISION's first chairman before he left in December.
Tucker thanked Prouty, and members of Project VISION, for "taking care of our baby," He noted that more than 90 people were part of Thursday's remote meeting, an unusually large number for meetings since they began to take place through the web.
Kraus said he didn't know Prouty well when he succeeded Tucker but as they worked together on VISION, he said Prouty became "like a little brother."
"As a little brother, he was immature, difficult to work with and so annoying. You know all of this. He just admitted as much. At the same time, I got to see the other side of Matt. I got to see his amazing sense of humor, his humility, his intelligence, his sensitivity, his massively big heart and his passion for both his work and his community," he said.
Al Wakefield, who is a more recent member of VISION, said as a Black man from New York City, he was concerned about what his experience would be in a small town but said "none of those concerns have been justified,"
"Before you go, I would be honored to get a ticket from you if you're still out patrolling," Wakefield said.
RCPD Chief Brian Kilcullen said Prouty could be amusingly rude and blunt "but never did too much damage."
"He always knew how to approach a particular situation. He absolutely served the department, the collaborative and the city incredibly well. Matt, you'll be absolutely missed," he said.
One of the women who spoke at the meeting said she had challenges with substance abuse and called Prouty her "biggest supporter in turning her life around." She said she met him through his role as a police officer, but said he made a personal connection and was always there for her "through all my drama and chaos."
She said she had been clean almost a year, which she said she couldn't have done without his help.